​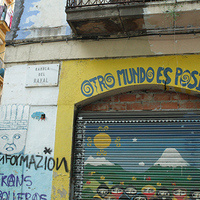 "World" - Travel Entre Mundos Art Exhibit, Curated by Leslie Sotomayor
"World"-Travel Entre Mundos will take place in conjunction with the conference, Toward Decolonial Feminisms, inspired by the work of feminist philosopher, activist, and popular educator, María Lugones. The show features visual, performative, or mixed media artwork that contends with themes of identity, gender and sexuality, and resistance to oppressive systems (colonial, racist, heterosexist, etc.) from a feminist perspective. For more information about the exhibit and conference visit http://sites.psu.edu/lugonesconference/.
There will also be a reception with live music for registered conference participants from 7-9 PM on May 11th.
Friday, May 11, 2018 at 12:00pm to 4:00pm
Attic at the State Theatre 130 W. College Ave., State College, PA 16801
Event Type

Website
Group

Subscribe
​
​