​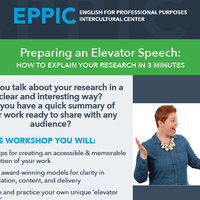 Preparing an Elevator Speech: How to Explain your Research in 3 Minutes
Can you talk about your research in a clear and interesting way?
Do you have a quick summary of your work ready to share with any audience?
IN THIS WORKSHOP YOU WILL:
- Learn tips for creating an accessible & memorable description of your work
- Review award-winning models for clarity in organization, content, and delivery
- Prepare and practice your own unique 'elevator speech'
Registration for workshops is available here.
Tuesday, October 2, 2018 at 11:00am to 12:30pm
211 Nursing Sciences Building
Event Type

Departments

Website
Group

Subscribe
​
​