​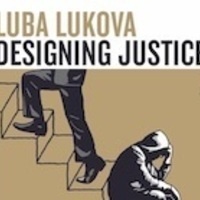 Luba Lukova: Designing Justice
Internationally renowned, New York-based Luba Lukova is regarded as one of the most original image-makers working today. Whether by using an economy of line, color and text to pinpoint essential themes of humanity or to succinctly visualize social commentary, her work is undeniably powerful and thought-provoking.
Reflecting on complex social issues has been Lukova's career-long focus because of her firmly held belief that art is central to human existence and that morality and creativity are aligned. In 2008 she released her Social Justice portfolio, addressing themes such as peace, censorship, immigration, ecology, hunger, and corruption.
The McCourtney Institute for Democracy is co-sponsoring this event with the Stuckeman School in the College of Arts and Architecture.
Wednesday, January 24 at 6:00pm
Stuckeman Family Building, First Floor Jury Space
​
​