​
Latinx Studies, Language Departments, and Higher Education Institutions at the Intersection: A round table discussion hosted by Penn State's Latina/o Studies Speaker Series
Thursday, September 21, 2017 at 4:00pm
Mann Assembly Room, Paterno Library E 103
The Latina/o Studies Speaker Series presents:
Latinx Studies, Language Departments, and Higher Education Institutions at the Intersection A roundtable discussion with:
Dr. Arnaldo Cruz-Malavé (Fordham University)
Dr. Lawrence La Fountain-Stokes (Univ. of Michigan)
Dr. John Ochoa (Penn State University)
What kinds of academic experiences emerge when scholars of Latinx Studies work within language departments? How does the intersection of the field and foreign languages impact their research and teaching? What are the opportunities and the challenges that such intersection offers? What institutional support is needed by programs of Latinx Studies that navigate among different departments?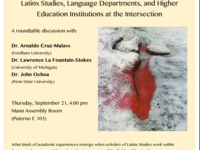 ​
​