​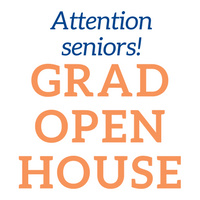 Graduation Open House
Attention seniors graduating in May! You are required to attend the College of the Liberal Arts Graduation Open House to receive your nomenclature card and graduation information.

Please bring your student ID and complete your Senior Survey before attending to save time. Staff will be confirming if you completed it.

Here is the link to the Senior Survey: https://goo.gl/8UYUPw
You must stop by Penn State Learning Center in 7 Sparks Building on one of these days and times:
Tuesday, April 17 through Thursday, April 19
8:30 a.m.–4:30 p.m.
Here's the schedule of events for each day:
Tuesday, April 17
Free cookies! (while supplies last)

Wednesday, April 18
Free LinkedIn Photos Available
1:30 p.m. – 4:30 p.m.

Thursday, April 19
Lunch & Learn: Ten Principles of Financial Literacy – Life after Graduation
Join the Penn State Financial Literacy & Wellness Center to learn more about starting your future after graduation knowing the basics of personal Financial Literacy. (RSVP Required in Network Symplicity)
Noon-1:00 p.m.
Giveaway!!! You will automatically be registered to win a Penn State diploma frame OR a gift card sponsored by Kohl's for professional dress attire when you stop by Graduation Open House.
Thursday, April 19, 2018 at 8:30am to 4:30pm
Sparks, 7
Departments
Group

Subscribe
​
​