​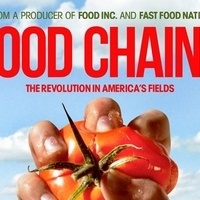 Food Chains Film Screening and Panel Discussion
Food Chains reveals the human cost in our food supply and the complicity of large buyers of produce like fast food
and supermarkets.

Following the showing of the movie, there will be a panel discussion that includes experts featured in the film. Panelists include Enrique Balcazar, dairy worker, organizer and educator, Migrant Justice's Milk with Dignity Program and Gerardo Reyes, farmworker and organizer, Coalition of Immokalee Workers. The discussion will be facilitated by Tiffany Finck-Haynes, M.P.S program in Labor and Global Workers' Rights, School of Labor and Employment Relations.

More information: http://lser.la.psu.edu/gwr/documents/CGWRSymposiumBooklet2018final.
Thursday, April 19, 2018 at 7:30pm to 9:00pm
Kern Building, 112
​
​