​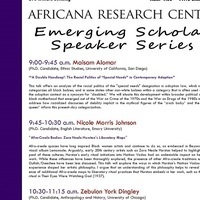 Emerging Scholar Speaker Series (Week 3)
9:00-9:45 a.m.
Maisam Alomar, Ph.D. Candidate, Ethnic Studies, University of California, San Diego
"'A Double Handicap': The Racial Politics of "Special Needs" in Contemporary Adoption"
This talk offers an analysis of the racial politics of the "special needs" designation in adoption law, which in practice categorizes all black babies, and in some states other non-white babies within a category that is often used outside of the adoption context as a synonym for "disabled." We will situate this development within broader political attacks on black motherhood that emerged out of the War on Crime of the 1970s and the War on Drugs of the 1980s in order to address how racialized discourses of debility implicit in the mythical figures of the "crack baby" and the "welfare queen" inform this present-day categorization.
9:45-10:30 a.m.
Nicole Morris Johnson, Ph.D. Candidate, English Literature, Emory University
"Afro-Creole Bodies: Zora Neale Hurston's Liberatory Maps"
Afro-creole spaces have long inspired Black women artists and continue to do so, as evidenced in Beyoncé's 2016 visual album Lemonade. Arguably, early 20th century artists such as Zora Neale Hurston helped to highlight the appeal of these cultures. Hurston's early ritual initiations into Haitian Vodou had an undeniable impact on her literary work. While these influences have been thoroughly explored, the presence of other Afro-creole traditions such as the Gullah/Geechee have been less discussed. This talk will explore the ways in which Hurston's Haitian Vodou initiatory experience shaped her artistic philosophy. I argue that an understanding of this philosophy helps to reveal the presence of additional Afro-creole maps to liberatory ritual practices that Hurston embeds in her work, such as the seekin' ritual in Their Eyes Were Watching God (1937).
10:30-11:15 a.m.
Zebulon York Dingley, Ph.D. Candidate, Anthropology and History, University of Chicago
"Rituals of Enclosure and Exposure in South Coast, Kenya"
This talk presents an overview of the scalar levels (person, household, and village) at which suspicions of "witchcraft" are expressed and managed among the Digo and Duruma peoples of Kwale County, Kenya. I argue that these suspicions are mediated by a dialectic of concealment and revelation, in which persistent efforts to expose what others may be hiding are combined with an imperative to hide from others. Suspicion manifests acutely around acts of witchcraft perpetrated by close kin and neighbors, and is addressed through rituals designed to render the surfaces of bodies and houses opaque and impermeable to others. These rituals simultaneously delineate an enclosed and protected interior space against a threatening exterior, and symbolically represent objects and processes at other scalar levels. Further, they involve either the private creation and concealment (or public exposure and destruction) of objects whose materiality, temporality, and scale of operation are closely linked.
FREE AND OPEN TO THE PUBLIC
Monday, February 5 at 9:00am to 12:00pm
216 Willard
Event Type
Group

Subscribe
​
​