​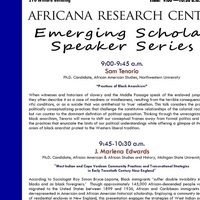 Emerging Scholar Speaker Series (Week 1)
9:00-9:45 a.m.

Sam Tenorio, Ph.D. Candidate, African American Studies, Northwestern University

"Practices of Black Anarchism"
When witnesses and historians of slavery and the Middle Passage speak of the enslaved jumping ship, they often describe it as a case of madness or mindlessness, resulting from the terrible consequence of horrific conditions, or as a suicide that was antithetical to 'true' rebellion. This talk considers the problem of politically conceptualizing practices that challenge the constitutive relationships of the colonial racial order but run counter to the dominant definition of political opposition. Thinking through the unrecognizability of black anarchism, Tenorio will move to shift our conceptual frames away from formal politics and consider the practices that enunciate the limits of our political understandings while offering a glimpse at the antagonism of black anarchist protest to the Western liberal tradition.


9:45-10:30 a.m.

J. Marlena Edwards, Ph.D. Candidate, African American & African Studies and History, Michigan State University

"West Indian and Cape Verdean Community Practices and Transnational Strategies in Early Twentieth Century New England"
According to Sociologist Roy Simon Bryce-Laporte, Black immigrants "suffer double invisibility in fact as blacks and as black foreigners." Though approximately 145,000 African-descended people voluntarily migrated to the United States between 1899 and 1936, African and Caribbean immigrants are underrepresented in American and African American historical scholarship. Employing a community level study of residential enclaves in New England, this presentation engages the strategies of West Indian and Cape Verdean immigrants in New Bedford and Providence as they reformatted community networks, created ethnic-based organizations, and established transnational institutions that maintained connections with their homeland. The community-level micro study provides valuable insight into the ways these African-descended communities, as neighbors, experienced and adapted to their diaspora condition differently. While West Indians altered their community landscape and eventually assimilated into the African American community, Cape Verdeans retained a Cape Verdean ethnic identity bolstered by their transnational shipping fleet and the constant flow of people, goods, and ideas from the homeland. This presentation is part of my dissertation entitled, "To Do Credit to My Nation, Wherever I Go": West Indian and Cape Verdean Immigrants in New England, 1890-1940.

FREE AND OPEN TO PUBLIC
Monday, January 22 at 9:00am to 10:30am
216 Willard
​
​