​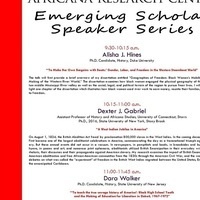 Emerging Scholar Speaker Series (Week 2)
9:30-10:15 a.m.
Alisha J. Hines, Ph.D. Candidate, History, Duke University
"'To Make Her Own Bargains with Boats:' Gender, Labor, and Freedom in the Western Steamboat World"
The talk will first provide a brief overview of my dissertation entitled "Geographies of Freedom: Black Women's Mobility and the Making of the Western River World." The dissertation examines how black women engaged the physical geography of the antebellum middle Mississippi River valley as well as the social, legal, and political terrain of the region to pursue freer lives. I will also highlight one chapter of the dissertation which illustrates how black women used river work to earn money, reunite their families, or escape to freedom.
10:15-11:00 a.m.
Dexter J. Gabriel, Assistant Professor of History and Africana Studies, University of Connecticut, Storrs (Ph.D., 2016, State University of New York, Stony Brook)
"A West Indian Jubilee in America"
On August 1, 1834, the British Abolition Act freed by proclamation 800,000 slaves in the West Indies. In the coming decades, August First became one of the largest abolitionist celebrations in America, commemorating the day as a transnational triumph against slavery. But these annual events did not occur in a vacuum. In newspapers, in pamphlets and books, in broadsides and bulletins and hymns, in poems and art, and numerous print ephemera, abolitionists utilized British Emancipation in their everyday writings, their rhetoric, their discourses and their propaganda against American slavery. My research examines the impact of British Emancipation on American abolitionism and free African-American communities from the 1830s through the American Civil War, and the ways in which debates on what was called the "experiment" of freedom in the British West Indies migrated between the United States, England and the emancipated Caribbean.
11:00-11:45 a.m.
Dara Walker, Ph.D. Candidate, History, State University of New Jersey
"'To teach the true savage history of America': Black High School Youth and the Making of Education for Liberation in Detroit, 1967-1972"
While black Americans migrated to Detroit with visions of better schools, neighborhoods, and jobs, their offspring encountered racial violence and discrimination that blacks had hoped to escape in the South. During the Black Power movement, the children and grandchildren of these migrants organized school building takeovers and walkouts to resist the Eurocentric high school curriculum and to fight vigorously for their own vision of liberatory education. This research looks beyond the heady moments of desegregation battles to examine the role of liberatory education in the making of black youth politics, and reveals the significance of multigenerational study spaces, which included Black Marxists and Black Nationalists, to this process. It argues that students marshaled their experiences with racist violence and segregation, and the intellectual rigor of Detroit's black radical tradition to introduce into the curriculum a vision of education that was culturally and politically relevant to their lives as black youth.
FREE AND OPEN TO THE PUBLIC
Monday, January 29 at 9:30am to 11:45pm
216 Willard
Event Type
Group

Subscribe
​
​