​
Department of Sociology and Criminology Come Back to Campus Mentoring Event
Wednesday, February 24, 2016 at 10:00am to 2:00pm
Noontime Lounge–1st Floor HUB , (above Panda Sushi, overlooking HUB Lawn)
The Department of Sociology and Criminology will hold its annual Come Back to Campus mentoring event Wednesday,February 24th at the HUB. Come Back to Campus is an opportunity for student to network with successful department alumni and to gain valuable insights about career paths and options.
A representative from Penn State's law school will also be there for those considering law school.

This event is open to ALL STUDENTS so bring a friend! Please RSVP to sociology@psu.edu or visit us on Facebookand let us know that you'll attend.
Subscribe

Departments

Website
Group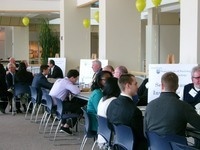 ​
​