​
Celebration of 25th Anniversary of Ukrainian Independence and 25 years of Ukrainian Studies at The Pennsylvania State University
Tuesday, April 4, 2017 at 3:00pm to 10:00pm
Hintz Alumni Center University Park, PA 16802
The Woskob Family Foundation, the College of Liberal Arts, the School College of AgricultureAgricultural Sciences, and the Department of Germanic and Slavic Languages and Literatures will be celebrating the 25th anniversary of Ukrainian Independence and 25 years of Ukrainian Studies at The Pennsylvania State University in University Park, PA on Tuesday April 4, 2017. The event will also mark 25 years of cooperation in Forestry and Agricultural Sciences with the National University of Life and Environmental Sciences (NULES) in Kyiv, Ukraine. The Rector and representatives of NULES will be in attendance forat the daylong series of events.
A The schedule of events for the day includes the following:
At 3:00PM there will be a book launching of Helen Woskob Freedom and Beyond: My Journey from Ukraine to a New Life in America l about the city of Lviv Seven Signs of the Lion at the Hintz Alumni Center on the Penn State University Park campus. Actor Michael Bernosky will provide dramatic readings from both books.
At 4PM Dr. Markian Dobczansky (PhD in history from Stanford University and Jacyk Fellow at the University of Toronto) will present a lecture "The Legacy of Soviet State-Building: A Historical Primer on the Russian-Ukrainian Conflict" at the Hintz Alumni Center.
At 5PM Dean Susan Welch of the College of Liberal Arts and Dean Richard Roush of the College of Agricultural Sciences will open the reception at the Hintz Alumni Center.
At 5:15PM to 7PM a reception at the Hintz Alumni Center in honor of 25 Ukrainian studies al Sciencesat Penn State. There will also be an exhibit of woodcarvings by Ukrainian artist Serhiy Karpenko during the reception.
At 7:30PM the Ukrainian world music group DakhaBrakha will perform in Schwab Auditorium. The performance is sponsored by The Woskob Family Foundation at Penn State.
Subscribe

Event Type
Cost

Tickets for Dakhabrakha Adult $34. University Park Student $15, 18 and Younger $24

Group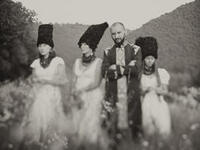 ​
​